Tim Burton's The Nightmare Before Christmas In Concert Live to Film
Date & Time
Sun Oct 23 2022 at 07:00 pm
Location
Gaillard Center | Charleston, SC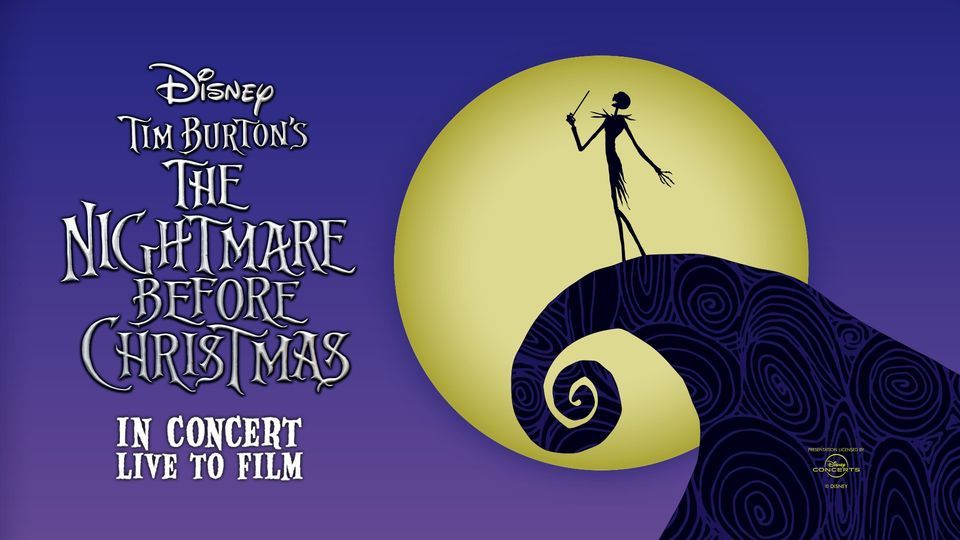 Advertisement
Details
With the Charleston Symphony
Tickets on sale to the public Friday, July 22 at 11am. Become a member for presale access!
The Charleston Gaillard Center presents Disney's timeless holiday classic, Tim Burton's "The Nightmare Before Christmas" with music performed live by the Charleston Symphony.
About the Film
First released in 1993, Tim Burton's "The Nightmare Before Christmas" was directed by Henry Selick ("James and the Giant Peach") and based on a story and characters by Tim Burton. The film follows the earnest-but-misguided adventures of Jack Skellington, Halloween Town's beloved Pumpkin King, as he attempts to take over the Christmas holiday. Against the advice of Sally, a lonely rag doll who has feelings for him, Jack enlists three mischievous trick-or-treaters – Lock, Shock, and Barrel – to help him kidnap Santa Claus. The film is rated "PG."
About Disney Concerts
Disney Concerts is the concert production and licensing division of Disney Music Group, the music arm of The Walt Disney Company. Disney Concerts produces concerts and tours, and licenses Disney music and visual content to symphony orchestras and presenters on a worldwide basis. Disney Concerts' concert packages include a variety of formats, such as "live to picture" film concerts and themed instrumental and vocal compilation concerts, and range from instrumental-only symphonic performances to multimedia productions featuring live vocalists and choir. Current titles include the Star Wars Film Concert Series (Episodes IV-VII), Beauty and the Beast, The Little Mermaid, Fantasia, Pixar In Concert, The Nightmare Before Christmas, Alice In Wonderland, Frozen, Ratatouille, The Pirates of the Caribbean series (Episodes I-IV), and Silly Symphonies, which last year collectively accounted for over 400 performances in many of the world's top concert venues, including Lincoln Center, Royal Albert Hall, Sydney Opera House, Tokyo Forum and the Hollywood Bowl. Numerous new concert packages and touring productions from Disney's portfolio of studios, including Disney's feature animation and live action studios, Pixar, Lucasfilm and Marvel, are currently in development.
Presentation licensed by Disney Concerts. © All rights reserved.
Event Location
Gaillard Center, 95 Calhoun St, Charleston, United States
Event Host