Spooky SZN |Halloween Crawl | Charlotte
Date & Time
Sat Oct 28 2023 at 05:00 pm to 11:00 pm
UTC-04:00
Location
Slate Charlotte | Charlotte, NC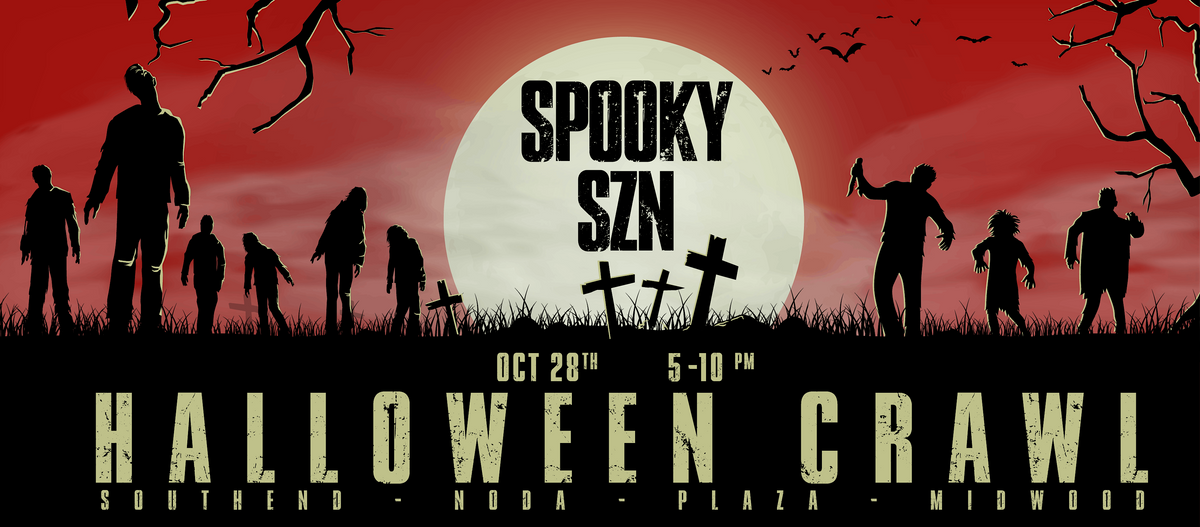 Details
If it's October. You know what that means. #SpookySzn
On October 29th, the historic South End, Noda, Plaza-Midwood neighborhoods will be taken over by the walking dead bar hopping this holiday!
WHAT'S INCLUDED:
•Themed Wristband
• Access + Entry to all Venues
• Exclusive Drink Specials
•Check In Party w/ DJ + Welcome Treats
• Awesome swag & giveaways from partners
•Live Entertainment at Select Bars
• Digital Map of Locations
• Free NFT Collectible That Can Be Redeemed For Cash & Prizes
•Photographer & Videographer To Capture The Best Moments
• $500 Costume Contest
Age 21+.
Check in 5-8pm Saturday. Early Wristband pickup available for All Access Ticket Holders.
Pick up your wristband, swag, and map of locations with specials at participating spots.
Participating Venues :
SOUTHEND
Slate - Check In ?
The Union
All American Pub
Lost and Found
Hoppin
Brigid's Irish Pub
Resident Culture South End
SlingShot
Hi-Wire Brewing
Trolley Barn
Pins Mechanical Co
NODA
The Blind Pig - Check in?
Exchange at 36th
Room and Board
NoDa 101
Jack Beagles
Stu's Barrel House
Bargarita
PLAZA-MIDWOOD
Pinhouse - Check in?
Resident Culture Plaza-Midwood
Pilot Brewing
Legion Brewing
Kilted Buffalo
Whiskey Warehouse
Stroke
The Pizza Peel
Interested in being a Partner or Sponsor?
https://bit.ly/PartnersandSponsors
?Costume Partner ?
Morris Costumes + Halloween Express
Use Promo code: SocialytesCLT
Before Oct 1st 20% off
Oct 1st - 20th 15% off
http://bit.ly/SpookyCLT
Or 10% In Store
?App Partner ?
Official App Partner - BarCrawler
Download the FREE app today where we will have the digital map and Drink Specials + more!
IPhone App Store : (link in bio)
https://apps.apple.com/us/app/barcrawler/id6443663328
Proceeds from this Event will benefit
Cool Kids Club House in Huntersville.
Devoted to improving the quality of life for pediatric oncology patients and their families. They host FREE programs for kids with cancer and their siblings including Smile Celebrations, monthly movie nights, professional tutoring, holiday parties, summer programs, family support groups, family v acations and more.
Text clubhouse to 44-321 to learn more or visit www.c
Event Location
Slate Charlotte, 200 East Bland Street, Charlotte, United States
Tickets & Booking Details
USD 10.00
Event Host